Lexington, Lincoln & Concord: Revolutionary Road Drive Tour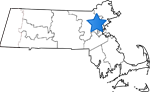 Lexington, Lincoln & Concord: Revolutionary Road Tour
This drive tour carries visitors through the overture to the American Revolutionary War, beginning with the "shot heard 'round the world" on April 19, 1775. The drive starts in Lexington with a recommendation for a local bus tour and continues through the Minute Man National Historical Park and on to Concord. Total distance is 6 miles.
Map Link for this Scenic Drive Tour
Lexington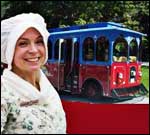 One convenient way to start your tour is to enter the center of Lexington, park your car, and board the
Liberty Ride
, a bus ride through the high points of the story of the opening battle of the Revolutionary War. The bus tour includes Lexington Battle Green, Munroe Tavern, the National Heritage Museum, Minute Man National Historical Park as far as North Bridge, the Paul Revere capture site, Battle Road, Orchard House (the home of Louisa May Alcott), Colonial Inn, the Old Manse, Concord Museum, The Wayside, and Emerson House. Tours operate April through October.
-- From Lexington, drive about 2 miles westward on Massachusetts Avenue to Route 2A to the Minute Man National Historical Park Visitor Center at 250 North Great Road (Route 2A) in Lincoln…
Lincoln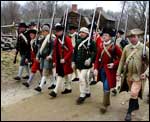 On April 19, 1775, British soldiers and American militia met in a series of skirmishes along a stretch of road from Boston to Concord, setting off the American Revolution. The story of
Minute Man National Historical Park
is more than just the events at Lexington Green, Concord's North Bridge, or Battle Road. A good place to start is the Visitor Center at 250 North Great Road in Lincoln (there is a second park visitor center, in Concord). Visitor Centers display exhibits, offer maps and information, and greet visitors for walking tours.
-- Travel about 4 miles westward on Route 2A, switching to Lexington Road, into Concord (do not take the 2A bypass that circles south of Concord)
Concord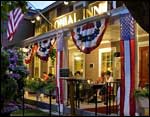 A drink or meal at
Concord's Colonial Inn
, 48 Monument Square in Concord, is a great way to rest and absorb the flavor of Revolutionary times. Listed on the National Register of Historic Places, the original structure was built in 1716. The property has been operated as a hotel since 1889. Situated on Concord's town common, known as Monument Square, the Inn is surrounded by landmarks of our nation's literary and revolutionary history.
Map Link for this Scenic Drive Tour