Destination Plymouth County, MA
Fall for Plymouth County; you won't be disappointed!
---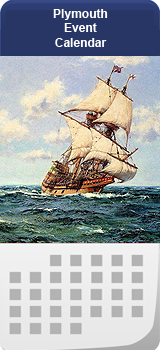 You know that fall has arrived to Plymouth County when cranberry bogs glisten bright red -- alongside the yellows and oranges of the trees -- and visitors flock to enjoy the cranberry festivals and many other autumn activities in this area of waterfront fun and Colonial history.
Personal stories and even the possessions of the earliest European arrivals to this shore are no display at Pilgrim Hall Museum, a truly fascinating exploration. At Plimouth Plantation, you can see exactly how English settlers and Native Americans forged their earliest homes and relationships.
Festivals? King Richard's Faire brings the fun face of Renaissance England to Carver for its 37th year. Edaville Family Theme Park -- bring fun to families for more than 70 years -- has changed with the times to provide fresh experiences.
Enjoy the close of the whale watching season with Capt. John Boats. Spend the first weekend of October at the A. D. Makepeace Company Cranberry Harvest Festival. On November 17 America's Hometown Thanksgiving Celebration Parade marches through Plymouth's downtown and waterfront. Be there!