Cape Cod: Old King's Highway (Route 6A) Antiques and Vistas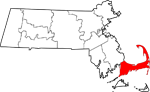 Cape Cod: Old King's Highway (Route 6A) Antiques and Vistas
Sandwich to Dennis to Brewster. Total distance is about 26 miles.
Beautiful drive along Cape Cod Bay, through small town centers with shopping at distinctive galleries, boutiques, and antique stores. Learn more at Cape Cod Vacations.
Map Link for this Scenic Drive Tour
Sandwich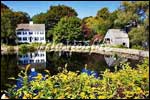 The Dunbar Tea Room & Gift Shop
at 1 Water Street is one of two places of beauty and serenity in the center of town -- the other being a small pond with the historic Dexter's Gristmill. Dunbar's is loved for its homemade pastries, high-quality teas, British ales, and European wines. The building is a carriage house to the main house (1740) and the tea room is in a former billiards room. 508-833-2485.
-- Walk a few blocks up Main Street to …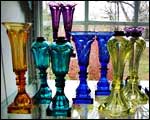 The Sandwich Glass Museum
at 1129 Main Street is just a short walk from Dunbar's. The museum displays art-quality glasswork by many artists. Watch a demonstration of molten glass being drawn from the furnace, blown and pressed into exquisite shapes. Open year-round except the month of January. Hours vary seasonally.
-- Make a quick right and left around the triangle and head southward on Grove Street about 1.2 miles to …
Heritage Museums & Gardens
. Located at 67 Grove Street, this property sprawls through rolling, wooded hills and is home to magnificent flower gardens, nature trails, a restored antique carousel, and museums of classic American cars and American art. The Flume Fountain conveys a wide ribbon of water down a dramatic waterfall into a pool in a daylily garden. There is an antique auto collection, a labyrinth, a maze garden, a café, and a museum store. 508-888-3300.
-- Backtrack northward on Grove Street to the glass museum. Take Main Street eastward and then take a left onto Jarves Street. This will take you to Route 6A, the Old King's Highway
Sandwich Antiques Center
. At 131 Route 6A, this antique seller has grown into one of the finest multi-dealer shops in New England. Voted best antiques store 11 years consecutively by Cape Cod Life magazine, this story has a reputation for high-quality art and antiques. 508-833-3600.
-- Leaving the antiques center, take Jarvis Street east, then take a left on Factory Road and a right on Harbor Street, which will lead out to Boardwalk Road, to …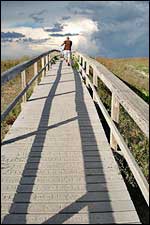 Sandwich Boardwalk
at Town Neck Beach. A simple walk through a place of stunning beauty. The Sandwich Boardwalk – more than 1,000 feet long – stretches above and across Mill Creek and acres of beautiful marshes and leads to the public Town Neck Beach. The walk places you in the center of fantastic vistas of dune in the distance, sky overhead, and marsh underfoot.
-- Leaving the boardwalk parking area, retrace your route through the neighborhood back to Route 6A and take a left to head eastward
Green Briar Nature Center & Jam Kitchen
at 6 Discovery Hill Road is a sanctuary of beauty in all seasons. On the shores of Smiling Pool, Green Briar offers a spectacular wild flower garden and interpreted nature trails. The nature center is adjacent to the 57-acre Briar Patch Conservation Area. Walking trails are open to the public. 508-888-6870.
-- Continue east on Route 6A
Keveney Lane. A drive down this road, which is a left turn off of Route 6A in Cummaquid, is an enchanting side trip for people who want to dig deep into the feeling of Cape Cod. The small wooden Keveney Lane Bridge looks out over Mill Creek on one side and Hallets Mill Pond on the other. Refreshing solitude, beauty, and Cape Cod scenery await here.
-- Continue east on Route 6A
Dennis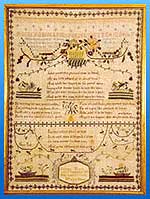 Antiques Center of Cape Cod
. Located at 243 Route 6A, this huge retail store (warehouse-size) offering antiques of every description from hundreds of dealers. Open daily, year-round. 508-385-6400.
-- To get to the next stop, Cape Cod Museum of Art, you need to make a short detour onto Hope Lane, which is a left turn off Route 6A after you pass the center of Dennis
Cape Cod Museum of Art
. This museum, at 60 Hope Lane, exhibits works by artists of Cape Cod and the Islands. For visitors, the museum offers exhibitions in seven galleries; strolling through a lovely sculpture garden; a museum shop for unique gifts by artists and artisans; independent films in The Screening Room; and a Kids Treasure Hunt in the Galleries. Open April through Columbus Day. 508-385-4477
-- Continue east on Route 6A
Brewster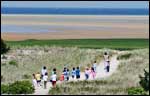 Cape Cod Museum of Natural History
. This museum at 869 Main Street is delightful for adults and children, but not overwhelming in size. Many exhibits explain the fascinating geology, flora, and animal life of the Cape, and the Salt Marsh Room offers a wonderful vista of the adjoining salt marsh. Just outside the back door is a self-guided walking trail of the marsh. Open year-round. 508-896-3867
-- Continue east on Route 6A
Lemon Tree Village Shops
. This cheery complex on Route 6A is filled with many unusual stores. You can find garden statuary, top-of-the-line cooking implements, locally made arts and crafts, pottery, birding supplies, clothing, gifts, jewelry, and toys. The shopping experience here has been described as a "unique representation of artists from all over the United States, Europe, the Far East" and, of course, Cape Cod.
-- Continue east on Route 6A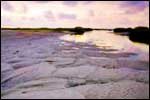 Namskaket Sea Path
at the end End of Linnell Landing Road. This five-mile trail loop traverses a long stretch of Cape Cod Bay shoreline, crosses some of Nickerson State Park, shares the Cape Cod Rail Trail bicycle path, and hugs some scenic roads. All of the Cape's defining elements are here — dunes, bogs, scrubby coastal woodlands shorn back by the sale-laden winds, historic homes, bicycle paths and winding roadways lined with native wildflowers.
Map Link for this Scenic Drive Tour