Food gifts are worth shopping for in Massachusetts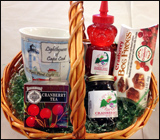 Shopping is one of the most popular activities by people traveling or on vacation.
Naturally, you want to take home some souvenirs from Massachusetts, along with gifts for stay-at-home family and friends.
Massachusetts is a diverse place, and so are stores, outlets, and unique small shops.
Take home Massachusetts-grown or –made cranberries or seafood or wine or beer or maple. The taste of the Bay State is unique!
277 Main Street - Route 131 Sturbridge, MA, 01566 Phone: 508-347-3313 Toll-Free: 800-782-5425
Welcome to our Gift Shoppe!
In our Gift Shoppe you will find a wide selection of New England specialties that we will deliver right to your front door. Purchase your favorite relishes, jams, and jellies or send someone a gift certificate for a relaxing weekend away from home. Once you enter our Gift Shoppe you can browse through our selection of Publick House favorites. From Apple Butter and Strawberry Rhubarb Jam to our traditional Brown Bread with Raisins and Sweet Red Pepper Relish that are served in our restaurant everyday.
Other unique gifts are also available such as New England cookbooks, Old Fashioned Candies and Sugar-Free Fruit Spreads. Gift certificates can be used at any of our facilities for lodging, dining or on any purchases from our Gift Shoppe.