Rainy Day Activities in the South of Boston / Plymouth Region (MA)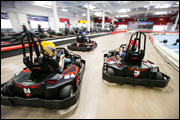 101 Kingston Collection Way Kingston, MA, 02364 Phone: 781-582-2445
Indoor fun from shopping to trampolines and go-kart racing entertain at Kingston Collection
The occasional rainy day during your vacation in Plymouth County is actually good news. That's because the Kingston Collection, a mall packed with shopping, dining, and entertainment for kids and adults, is just a short drive from Plymouth. In addition to shopping at national brand-name stores, a day here can offer play time at K1 Go-Kart Racing, Billy Beez, Mystery Room, PiNZ or Sky Zone Trampoline Park; haircuts and eyebrow shaping; dining and live entertainment at Waxy's Modern Irish Bar and Bar Rustic. You can even leave your car back at home or your hotel; commuter rail line that connects the region to Boston and Cape Cod. Visit our website and follow us on Facebook, Instagram and Twitter for a complete directory of stores, ongoing specials, promotions and a calendar of events.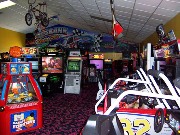 1098 Fall River Avenue Seekonk, MA, 02771 Phone: 508-336-8307
Rain or shine the action never stops
When the tracks are wet and the weather cold or rainy, the action doesn't stop at Seekonk Grand Prix, it just moves indoors. Find yourself at the arcade and challenge your family and friends on more than 60 of your favorite games including Guitar Hero, Ski Ball, Air Hockey and Dance Dance Revolution and more. Rain or shine there's always great competitive fun at an affordable price. When the weather clears, be sure to come back for all the on-track action that never fails to amaze and amuse. The new updated state of the art facility has all your go-kart fun to test your skills and moxy, now even two-seater go-karts that can race up to 12 at a time.