Shopping for Fine Crafts and Artisan Work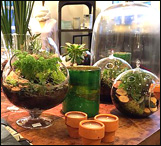 A very short drive to the north and west of Boston, the Merrimack Valley region is a historic and relaxing part of the state where you will find historic places like the Minute Man National Historical Park, outdoor sculpture at deCordova Sculpture Park, plenty of places to bike and walk, and really fun shopping. Towns of the region have one-of-a-kind assortments of book stores, clothing stores, and antique stores. Lowell is an epicenter of music, seasonal and ethnic festivals, which usually bring with them interesting vendors and shopping opportunities. Shopping is just one of the
great things to do
on a
family vacation
.
61 Market Street, Unit 1C Lowell, MA, 01852 Phone: 978-459-6150
Come for the shopping – stay for the pleasures of the Greater Merrimack Valley
The Greater Merrimack Valley is a shopper's paradise with a history-tinged allure. Put the 10th Annual Summer Artisans Market on your calendar and browse one-of-a-kind ceramics, decorative arts, woodwork, paintings, jewelry. Any day, just pick a direction and go. You'll find quaint shops and larger emporia to peruse unique gifts, home accessories, lighting fixtures, antiques and furniture. Bookstores offer children's books and others written by the region's famous authors, postcards, note cards and history themed items. Consignment shops proliferate throughout the region and studios offer artwork and photos to take home. Domestic and imported food and wine stores have artisan cheeses and custom gift baskets while gourmet candy shops and your favorite convenience stores always deliver the goods.